TWITTER - I've signed up for Twitter - user name @brit_battleaxe - well, it seemed appropriate. It's totally bonkers - I just use it for lighthearted stuff, but it does get a bit addictive so I must look out!

My latest madcap outing was on 'Celebrity MasterChef 2010' where I managed to get to the final, together with Lisa Faulkner (who took the title) and Dick Strawbridge. I seriously amazed myself as I honestly never thought I would get anything like that far. I promise I am really nothing more than an averagely competant housewife - but I did manage to rise to the challenges as they came along. We had a lot of fun along the way and it was a truly unforgettable experience. The trouble is that none of my friends dare invite us for dinner and I feel worried about inviting anyone because they will now be expecting MasterChef standards and, let's be honest, in a busy life there isn't always time!

For some of the inside story, here's a link to an article I wrote in the Mail on Sunday the weekend before the Final. http://www.dailymail.co.uk/femail/article-1303087/Stone-cold-food-63-chickens-marinating-skip-The-REAL-story--DISASTERCHEF-Christine-Hamilton.html

We actually filmed it all last winter - starting shortly before Christmas 2009 and finishing on 17th February. Anyone who says I can't keep a secret should remember that I didn't even tell my close friends whether I had won or not - and I had to keep that to myself for about six months!

Very privileged recently to meet a dozen survivors of the Battle of Britain - the 'boys' who flew the Spitfires. October 31st is the anniversary of the end of the Battle, because of which so much is still owed by so many to so few. I salute you all, brave men.

Down to earth, went down to Devon recently to Host Mr Gay Torbay - whatever next! We had a lot of fun together, the boys and me!

I'M NOT CHRISTINE HAMILTON ANY MORE!! Yes really, promise I'm not kidding! Just for fun I've changed my name to Mrs British Battleaxe (well, what else?) If you don't believe me havea look at http://www.youtube.com/watch?v=bK2mY2TaUOQ The Legal Deed Poll Service make it very quick and easy so if you want to do it for real take a look at their website http://thelegaldeedpollservice.org.uk

TWITTER - I've signed up for Twitter - user name @brit_battleaxe - well, it seemed appropriate. It's totally bonkers - I just use it for lighthearted stuff, but it does get a bit addictive so I must look out!

Been doing some travelling recently. Had a wonderful time in China earlier this year on a Viking River Cruise holiday. Few days in Shanghai followed by 5 days on the mighty Yangtse River through the magnificent gorges. Then to Xian and Beijing. We ticked a lot of boxes - eg Forbidden City, Terracotta Army, the Great Wall, Summer Palace and, of course, the pandas!

Last year we went to St Petersburg and Moscow via the Volga-Baltic Waterway with Viking River Cruises - fabulous trip. We also went to Naples and Ischia (see 'Articles' for why I chose Ischia in particular) and on a Pacific cruise in March - speaking on board - but the ship broke down so all did not go according to plan! Quick whizz to Spain as well.

Neil keeps busy with his legal and internet work - although I sometimes wonder if he works as hard as he claims - caught him downloading old Ealing Comedies the other day - well really!!

ON THE HIGH SEAS! - For the first time in my life I spent Christmas (2008) away from home. Leaving the family to fend for themselves - yippee - we went on a 2-week cruise with P&O - Mexico, Nicaragua, through the Panama Canal, Costa Rica, Aruba, St Lucia, St Vincent and home from Barbados. I know what you're thinking, a real hardship posting! Well, someone's got to do it and it was work - we were speaking. We had a wonderful time aboard the family friendly 'Oceana' but the trouble is I've now got the taste for December sunshine, no shopping, no cooking, no washing-up, no tree and decorations to put up - and then have to take down. It might be hard to go back to the good old ways this Christmas!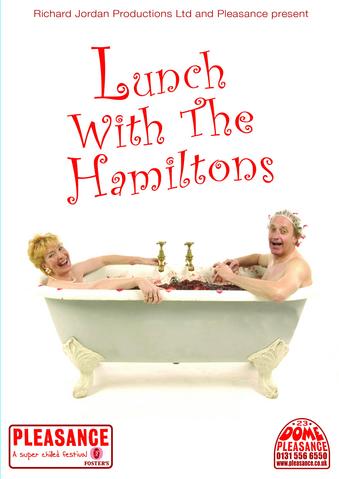 EDINBURGH FESTIVAL - In 2008 we went back to the Edinburgh Festival for the third (and last?) time. We had splendid fun with our daily show - 'Lunch with the Hamiltons - One Last Time! Nothing is scripted, it is a touch anarchic (Neil describes it as a cross between 'Hi- De Hi' and 'Newsnight' ) and we are never sure what is going to happen each day! We have three or four guests - other performers at the Fringe - and I am happy to report that it was a sell-out again this year - as were our Saturday night shows 'Midnight Feast with the Hamiltons' when the guests are, shall we say, somewhat more risque and the style more cabaret than chat show. We always make some splendid new friends, live like students for the month, burning the candle at both ends and chucking the middle into the flames.

HELP - GROUNDED! I was hobbling around on sticks a year or so ago after an operation to cut out a swollen nerve in my left foot - ouch! I had the right one done the year before and that does seem to have settled down again. No, it's not because I have spent my life in Manolo Blahniks (is that how you spell it?) but because I am a bit flat-footed - well, we can't all be perfect. The toes gradually squash the nerve and at my great age the time had come for something to be done.

TALKING OF FEET... A few weeks ago (Nov ) my husband cut his foot off with a chain saw - well not quite, but there was a huge amount of blood all over the kitchen floor (thanks - just as I was trying to cook for a dinner party) and I had to rush him to A&E. Thanks to Mrs Battleaxe Nightingale and her quick tight tourniquet, he survived. Next time he uses a chainsaw without the proper protective gear (all of which he has) he can jolly well get himself to A&E while I get on with the Tarte Tatin!

HELP THE AGED TREK CHINA 2008 - I was Ambassador for Help the Aged Trek China 2008 and should have been going on the Trek last autumn - but foot did not permit! I was so disappointed to miss such a great opportunity to visit an amazing country and walk through breathtaking scenery, part along the Great Wall and ending up in Beijing while, at the same time, raising money for a hugely worthwhile cause. But it was not to be - I just couldn't do it. Maybe next year... !

SPEAKING ENGAGEMENTS - We are always busy rushing around the country, and occasionally abroad, on speaking engagements, conference hosting and that kind of thing. We clock up a lot of miles but enjoy the varied events we attend and the huge range of people we meet. Never a dull moment - well, a few, but we gloss over those!

DESTINATION LUNCH - I've been having fun presenting a regular show called 'DestinationLunch' which goes out on the European property channel - Sky 287. It's a mix of travel, food, and guests and I have my own resident wineexpert on hand - none other than Neil - who is in his element choosingwines to complement the food and the countries we are visiting thatday. We were doing six shows a month which kept us out of mischief for two long days as we recorded three shows a day - they are all now being repeated.

SUNDAY EXPRESS - Neil writes articles most weeks for the Sunday Express. His brief is to be topical, opinionated and to entertain. He loves doing it and I love the fact that he has a regular income again!

WORLD CUP SONG - I know - I can't sing - don't remind me! But Neil and I recorded a very jolly World Cup Song in 2007 called 'England are Jolly Dee'. It is a catchy tune but, oh dear, they needed more than our encouragement.....! It's still available to download from www.itunes.com and do download the video as well - it is hilarious - I promise! Apart from anything else you can have a giggle at the sight of me in football shorts!

'THIS MORNING' - I know, I'm nuts but in 2007 I spent a week living on a first floor roof at the London Studios, overlooking the Embankment and the Thames. I started on the Monday dressed in just a dressing gown and slippers, armed only with a laptop and I had to get everything I needed for survival on the internet. No phoning a friend! I mean everything - loo, tent, sleeping bag, food, water, clothes, alcohol - mustn't forget the essentials! I had a budget of £2,000 and it was plenty. I ordered a gas barbecue and had delicious fresh food, I even carpeted my roof, ordered a gorgeous New Zealand guy to come and give me a massage, arranged live entertainment and an aerial display on the last day. It was huge fun and I had a ball. There was a live webcam 24 hours a day and people could look at me on a large screen down below on the Embankment - Neil came along every day to shout and wave at me but he was never allowed up!

MISS GREAT BRITAIN - I was twice a judge for the Miss Great Britain contest. Neil was hugely jealous that I was the one eyeing up the delicious girls on parade - but, of course, he came along to keep an eye on them too. They are fun evenings but, so far, my favourite has never won!

BBC RADIOs SWINDON & WILTSHIRE - Neil and I have hosted several 3 hour live radio shows BBC Radios Swindon & Wiltshire. The usual local radio mix of chat, music and banter. We had some great guests - Carol Thatcher, Jilly Cooper, Eddy Shah, Jenny Eclair, Bel Mooney, Michael Crick, Jilly Cooper, Charlie Brocket, Gloria Hunniford, Ken Dodd, Louis Theroux, Tony Hadley - to name but a few! It was terrific fun and we may well do more.

FRIENDSHIP WALKS - I was thrilled to be asked to be the 'Face of Friendships Walks' helping the Breast Cancer Campaign to raise money for and awareness of Breast Cancer. We can't all run a marathon but we can all walk - or be pushed - with friends, colleagues and family - to raise money for this hugely worthwhile cause. There can hardly be a person in the country who hasn't been touched by this disease, with a friend and family member falling prey.

HOW NOT TO DECORATE - This madcap programme went out on C5 - It was a good laugh, often at our expense, when Colin & Justin (the outrageous Glaswegian gay 'Design Duo') were let loose in our little London flat. The transformation was amazing but, gosh, how they screwed up on our sitting room!! The programme seems to be repeated every so often and I get e-mails from Canada and Australia about it!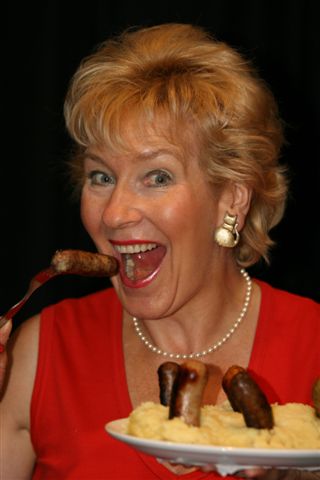 SAUSAGES!! Yippee!! I was delighted to be the first 'Face of British Sausage Week' in 2005 and then handed the sausage over to Carol Thatcher the following year. The largest annual celebration of the British Sausage it is run by the British Sausage Appreciation Society. and raises money for the Cystic Fibrosis Trust as well as celebrating the Great British Banger! I led a team all over the country in search of the winner. For more information - perhaps you would like to enter this year! - log on to: www.britishsausageweek.com I love sausages – I'm a bit of a sausage tart really – If I'm not near the sausage I love, I love the sausage I'm near! It's the delicious combination of crispy hard exterior and soft squishy succulent middle that makes the sausage so truly irresistible.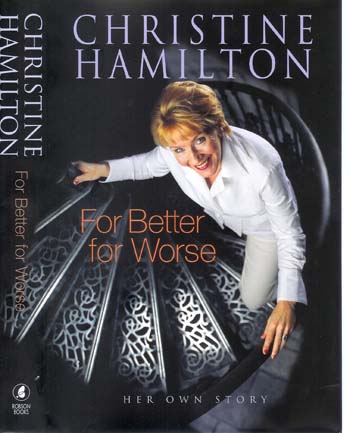 'FOR BETTER FOR WORSE'
My autobiography was published in March 05 by Robson Books price £16.99. I have to be honest - if I had known what hard work and how time consuming it would be I might never have started! But now I'm glad I did. It's all there - early life, love life, politics, scandal, legal battles, arrest, Louis Theroux, Jungle - I hope you enjoy reading it - it`s been a lot of effort! If would like to order your own personally signed copy, please visit the Books page where you will also find details of my 'Book of British Battleaxes' and Neil's 'Great Political Eccentrics'.

VAGINA MONOLOGUES - Well - I've finally made my West End debut!! In May 05 I appeared in the Vagina Monologues at Wyndhams Theatre, Charing Cross Road, sharing the stage with comedienne Jenny Eclair and Heather Small of MPeople. I last performed the Monologues three years earlier during the Edinburgh Festival and I was delighted to be doing them again. They are very funny and enjoyable even if you haven't got one or have no interest in them!! I am happy to report packed audiences, standing room only!

LIBEL VICTORY OVER MAX CLIFFORD - In February 05 we won a major libel victory over Max Clifford for the lies he told when Neil and I were falsely accused of rape and arrested by the Metropolitian Police in August 2001. It was the most horrendous experience (read about it in the book) and Clifford aided and abetted our accuser, including helping her to sell her anonimity for £50,000 to the News of the World - anonimity being a precious right given by Parliament to genuine victims of rape, not something to be sold to a tabloid newspaper. Clifford is not exactly a fan of ours so apologizing and paying a large total sum in costs and damages has been a bitter pill for him to swallow - pity it didn`t stick in his throat! We are the first people in forty years to have taken him on so I hope this will encourage others whom he libels to take action also.


I'M A CELEBRITY, GET ME OUT OF HERE! - It is difficult to believe it is over eight years since I was out there myself - thank you again to all the thousands of you who voted for me to stay in the Jungle. You helped raise a fantastic amount (nearly £100,000) for the Children`s Wish Foundation and more than made up for my disaster on `Who Wants to be a Millionaire`! Thank you!

Yet another series under way.... I can't believe it!! Another motley crew have to learn to live with each other - or not as the case may be! As a contestant in the very first series (2002 - yes that long ago!), I certainly enjoyed my time in the Jungle - lots of fun and laughs. I don`t mind `roughing it` so going without creature comforts didn`t bother me much - although I missed the wine! I slightly wish they would change the format a bit - the novelty value has gone, and the only thing that has changed is the severity of the challenges. At least they've changed the colour of the clothing this year although I can't say I lke the girlie combo any more than the bright blue the boys are wearing some of the time. Once it's all over the contestants, of course, move on to other things. Some use their exposure as a springboard to re-launch their careers, while others slip back into relative obscurity. They will all have had an amazing experience, some good, some bad, but getting accustomed to life after camp is easy. It's only a few weeks (far less for some) and it doesn't take long to adjust to the warm baths, good food and champagne which awaits! Mind you, I still love rice and beans and would be happy to pop back to the jungle in a trice!

BIG BROTHER - That's had it's day and not before time. Absolutely did not watch it but Neil and were once glued to two of the celebrity ones. Why? Because one of the contestants in '05, Derek Laud, is a long term friend of ours; we did pantomime with Rula Lenska; and Neil was in the House of Commons with George Galloway for 10 years - so we couldn't resist looking in at that one as well! I don't know how they cope - the Jungle was a picnic by comparison! I would hate it - I turned down taking part in the Celebrity version - it just didn't appeal - that little box of a house would drive me nuts (although the reported fees they were paid were attractive!!) - but the programme was no match for the natural, uplifting beauty of the Australian rainforest. Rather them than me!